Missing Guest Editor Returns with Scarcely-Believable Story of Foreign Culinary Discovery
Erik D'Amato cikke a Bilagit rovatból, 2007. június 9. szombat, 12:38 | 5 hozzászólás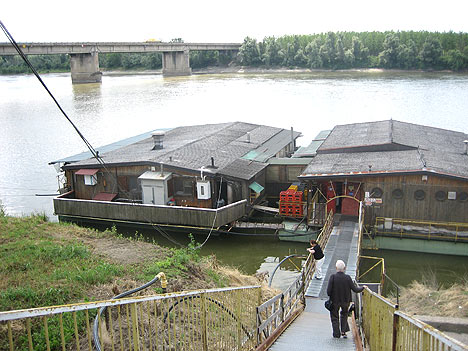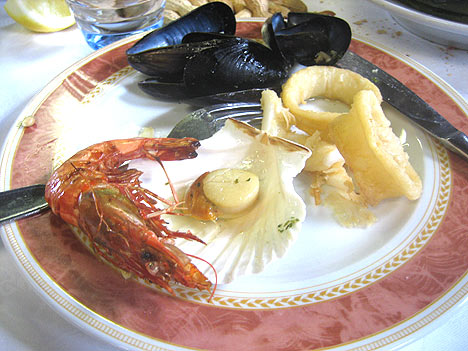 Hi, it's Erik D'Amato again, the irritating foreigner who was slated to be your guest editor for all of May, but who disappeared only halfway through the month. My excuse is that I had to depart Budapest to meet up with my parents for an eating tour of my ancestral homeland, and got so carried away I spent my first week back writing about Italian food in Budapest. But I'll try to make up for it by giving you the exclusive report on what was not only the most memorable meal of my trip, but perhaps of my entire disgracefully gluttonous life.
The meal in question took place not at some fancy restaurant in any of the cities we visited, but on a dilapidated barge floating on the Po river near the small town of Occhiobello, around 80 kilometers southwest of Venice (Map). We were on our way from Venice to Florence, and decided to stop for a "light" lunch somewhere, having been beaten down by some overly fancy (and overly expensive) meals in the famous "floating" city.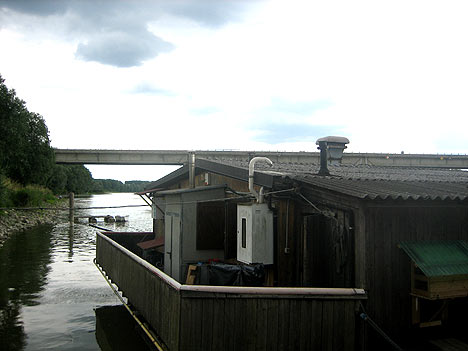 While my father was pushing for a quick stop at one of the Autogrill restaurants that dot the A13 motorway, my mother and I convinced him that we should exit the highway and eat in a nearby town. We chose Occhiobello because it looked big enough to guarantee at least one decent trattoria. We got off the highway and started following signs for a restaurant called "Il Mulino Sul Po." After a bit we found ourselves at the river's edge, trying to gin up the courage to walk down the "gangplank" and into this post-apocalyptic, bunker-looking thing moored just a hundred meters or so from the bridge carrying the A13 over the river.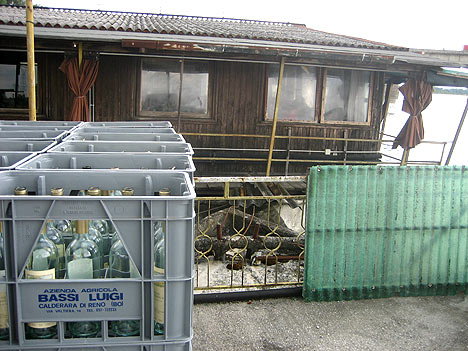 I snooped around a bit, and found that it was actually two barges: one for the restaurant, and one to hold all the empty wine and booze bottles being created by the place. This I took as an auspicious sign.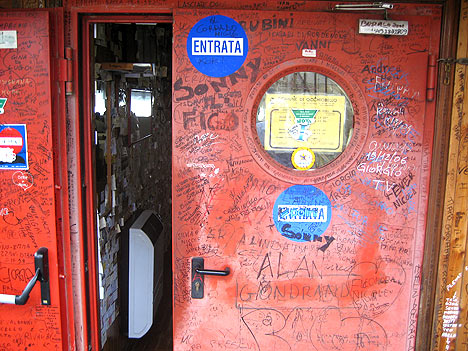 We walked through this door...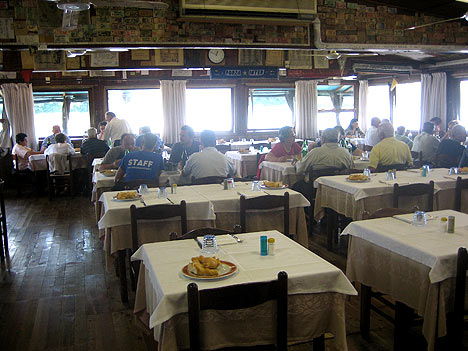 ...and into the middle of a what looked to me like a "seafood shack" of the sort you still find on the Gulf Coast of America, except with Italians instead of "good 'ol boys." We asked a waiter if we could look at a menu, and he instead pointed to a hand-written sign saying (from what we could tell) that there was only one meal available that day, costing €19.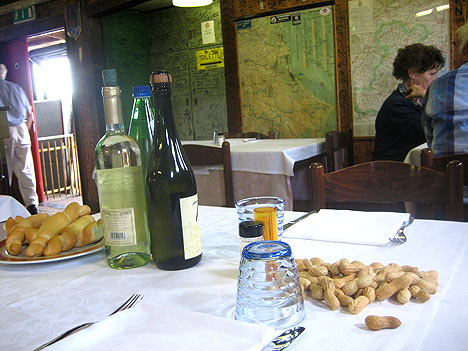 He then sat us down at our table, upon which sat a pile of unshelled peanuts and a bottle each of white wine (already opened), sparkling water, and sparkling wine. Seeing this, we all got a little nervous, because to be honest, when you don't see the prices on things in Italy, they tend to be very expensive.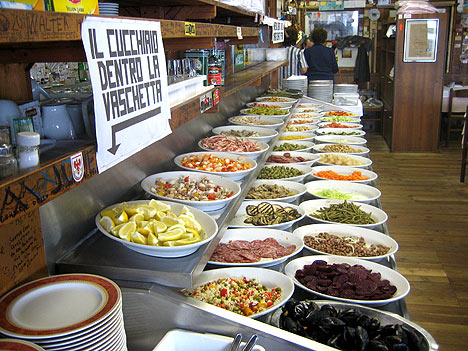 Our waiter then pointed us in the direction of this monstrous antipasti bar. After gorging ourselves on everything from marinated octopus to rice salad, my father said he was almost ready to call it quits.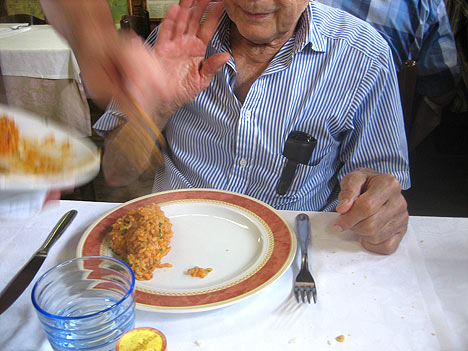 No such luck, as a few seconds later a waiter arrived with two types of pasta: a tasty seafood risotto, and penne with spicy red sauce. This is Papa D'Amato trying to convince the waiter not to give him any penne, unsuccessfully.
Of course, the meal was barely half over. After our (empty) pasta plates were removed, the main event kicked off. There was deliciously-crisp fried calamari, a heaving bowl of mussels in garlic and white wine, succulent pieces of some sort of sea fish, and giant grilled scampi and scallops (up top). Notice pops starting to clutch at his chest.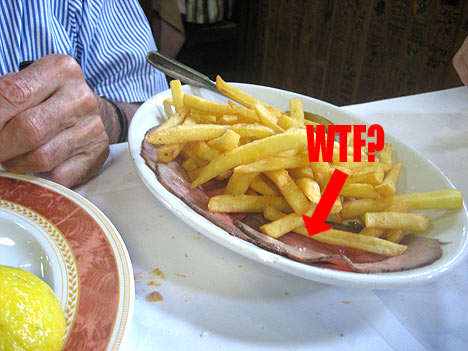 Just to give you a full idea of the overkill, underneath the fried potatoes were slices of rare roast beef.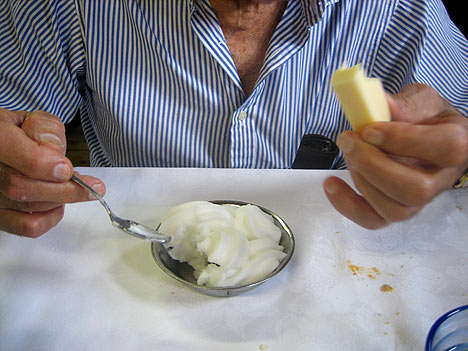 There's a strange thing about over-eating like this; even if you're already full, once you get started it's hard to stop. While my father spent the middle "act" of the meal operatically begging for mercy, he finished it off with a bowl of refreshing lemon sorbet and a giant chunk of local cheese, at the same time. When in Occhiobello...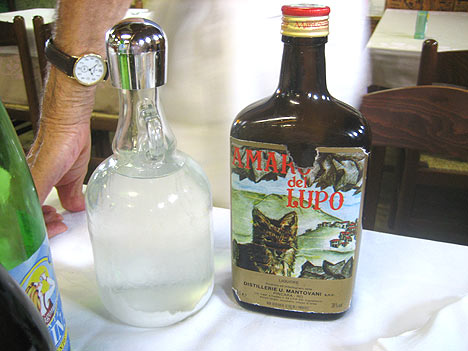 And then came the coup de grace, as our waiter dropped off a bottle of ice-cold grappa and a flask of "Amaro del Lupo," which is sort of the local version of Unicum. (Speaking of Unicum, when I later related this story to my friend Sándor Zwack, who was raised in Florence, he said that his own father had made the family stop off at this same restaurant every time they took the A13 across northern Italy.)
After taking a shot of each type of booze, I got up to stretch my stomach and approached the manager to ask about our bill, wondering what all this would end up costing. (In addition to a half-dozen glasses of grappa and Amaro, we polished off a bottle each of wine and water.) He handed me a slip of paper that just said "3 x €19." Grazie mille!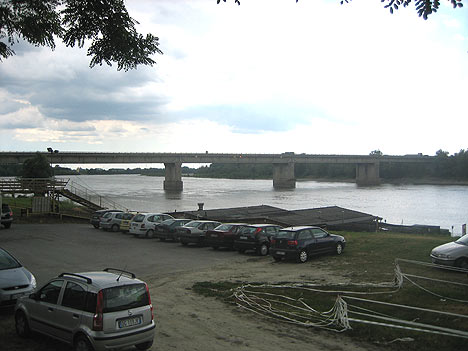 We walked back up the gangplank stuffed to the gills, not a little bit tipsy, and beaming at our unexpected discovery - until we realized we now had to get back on the highway and drive another 175 kilometers to Florence.
Értékelés (0-7): Does not compute.
Ristorante Il Mulino Sul Po
Autostrada Padova - Bologna
Uscita di Occhiobello
Tel: 0425/750145 - 750659
Closed Sundays and Mondays and Jan. 1-Feb. 13