Rupert and Bill Don't Scare Me!
Erik D'Amato cikke a Blog rovatból, 2007. május 4. péntek, 15:27 | 16 hozzászólás
Sometime after lunch today, around $6 billion - or roughly a trillion forints - of perceived value was added to the shares of Yahoo!, on news that Microsoft may be planning a takeover of the deep-rooted but recently-troubled portal company. (That's a screen-shot of the "pre-market" activity in the stock, taken from Yahoo's own finance pages at around 3:00 p.m. Budapest time.) The stunning news comes just a few days after Australian-American media magnate Rupert Murdoch caused an even bigger jump in the shares of the Dow Jones company, which publishes the Wall Street Journal, among many others. The two deals again leads one to wonder how freaked out to be about moguls like Bill Gates and Rupert Murdoch extending their grip over the global flow of information.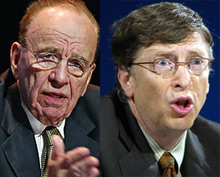 Ever since I worked at his first American publication (the strangely offline tabloid Star) more than 25 years ago as a lowly editorial slave, I've harbored an almost visceral fear of Murdoch (left). I can still remember the first time I picked up a phone and heard "It's Rupert," causing my blood to instantly chill by a few degrees. And not only me: when I passed on the call to the mid-level executive "Rupert" was calling for (everyone seemed to call him "Rupert") the guy looked like someone from the old Andrássy út 60 was on the line. It was common for Rupert to nitpick over the smallest detail - he was notorious for his headline-writing "skills" - and to blow his stack when he didn't get exactly what he wanted. I've never had the pleasure of working for Bill Gates, but from what I've read about the guy, he seems to be a younger (and richer) clone of Rupert. Both seem to have an insatiable appetite for power and control, and even the idea that they are the rightful "owners" of their respective industries. And both play hardball.
But all that said, I find that the notion of them rolling up these two jumbo media "properties" scares me about as much as a little yapping dog tied to a short leash behind a really big fence.
Okay, so maybe a big yapping dog. But still, not big enough to break that leash and jump the fence, or otherwise to do me any harm. The thing is, however hyped it may be, the idea that the Internet radically changes the balance of power between big-shot media types and little fry like me is actually true. Back when I worked for Rupert, the Journal was more or less the only "channel" for high-quality daily business news available in New York. Because of this, back then the idea of him getting on the phone to DJ HQ and dictating the next day's "news" would have been pretty terrifying. But if he tried that now, the news of him trying to do it would probably get out faster than the news he was trying to dictate, and he'd lose millions faster than the money being made on Yahoo! stock as I type. Same goes for Microsoft and Yahoo! I already have so many choices for thing to read online I wouldn't think for a second about leaving this one particular portal (and its annoying exclamation point) behind. And the same general rule goes for Hungary and other national media markets. Don't like what the party-linked dailies or corporate portals are publishing? Click. Sure, the ad market will take a while to catch up, for now leaving the money for "professional" content generation in the hands of the wicked already established. But still: click.
Not that this story is entirely happy. If it were, I would have been holding 100,000 shares of YHOO this morning, and the same amount of DJ on Monday night.