What Vlad Forgot to Mention on Victory Day
Erik D'Amato cikke a Blog rovatból, 2007. május 10. csütörtök, 18:01 | 20 hozzászólás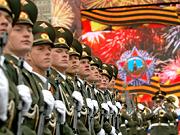 As I said last Friday, Rupert Murdoch and other would-be media monopolists don't scare me. But I, like lots of other people living in countries just a few days' drive by tank from the Russian border, am starting to get more than a little creeped out by Russian dictator President Vladimir Putin, and the whole ruszki "we're back!" circus act in general. But after hearing about how Putin went on a big tear at yesterday's "Victory Day" celebrations in Moscow slyly comparing the US and other members of NATO (e.g., Hungary) to the Nazis, I am also royally pissed off.
If you didn't have the pleasure of reading Putin's speech, his basic "point" was that the lessons learned from World War II are still valid today. "We do not have the right to forget the causes of any war, which must be sought in the mistakes and errors of peacetime," he said.
I couldn't agree more. Except for one minor detail he forgot to mention: That one of the primary "causes" of World War II was Russia.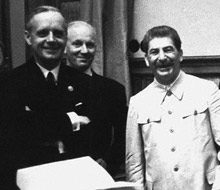 Yep, that's right. Even though decades of brainwashing and apologetics have successfully convinced even many historically astute people otherwise, the fact remains that WWII started with a concerted, and breathtakingly cynical, carve-up of Poland and the Baltic between Germany and the USSR. Of course, the Molotov-Ribbentrop Pact (that's R. and the big S. smiling at right over their dirty deal) came to an end when Hitler invaded Russia, and the Western Allies only saw fit to declare war on Germany and its core allies. But that doesn't change the fact that, until Hitler decided to turn on Stalin, the two were as thick as thieves. That they fell out while committing their crime - and that one convinced the "police" that he was actually a victim - doesn't change a thing.
(Meanwhile, speaking of mass amnesia, can someone explain to me why people in the West call the anniversary of the end of World War I "Armistice Day" but call the equivalent WWII celebration "V-E Day" or "Victory in Europe Day," when the West's original war aim - freeing Poland from outside control - was not achieved? And if it's okay to celebrate the "victory" in a war you fought for a purpose that in the end you never actually achieved, can we just go ahead and start celebrating "Victory in Iraq" day?)
It's not surprising that so many people would forget, or want to forget - or make others forget - about the truth of Russia's role as one of the two main parties that made this greatest of human tragedies possible. But it's nevertheless a horrendous bit of revisionism, and, given where thing are going over in Oroszország, more than a bit dangerous, too. So I call you out, Vlad, you BS artist, and will continue to, at least until it becomes too scary.